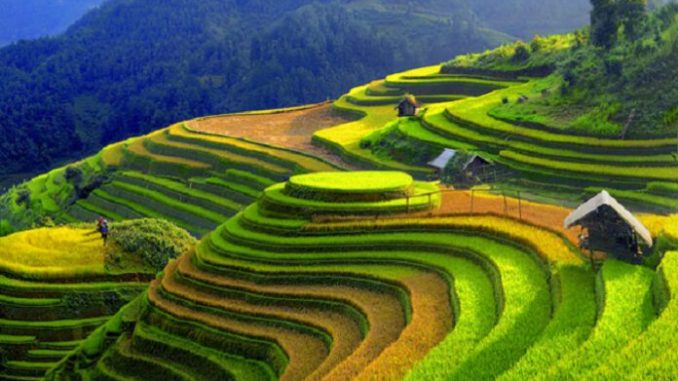 You flew from the north to the south of Vietnam and think that you have seen all of this country? Wait for a minute! Our country has more than that.
We have the imposing mountainous area with winding roads, the untouched lands with breathtaking natural flower fields, the warm smiles with pure eyes and a lot of cultural beauties waiting for you to explore. Most of those amazing places are located in the north of Vietnam and are loved by adventurous riders. So let's find out the reason by going through our top 7 best breathtaking places to visit in North Vietnam.
Sapa – Ethnic Characteristics
Sapa – one of the main tourist destinations in Northern Vietnam – is famous for its stunning landscapes and friendly ethnic minorities. Climbing on a motorbike to begin your day around Sapa, and you will be inspired by a cool fresh atmosphere of the mountainous area. 
In the early morning, Sapa is covered with a dense mist stretching on the mountainside. But peeking out of that fog, you will encounter the colorful images of the native hill-tribe people's clothes that create the ethnic characteristics of this area. And when the sun comes, the natural landscapes combined with the trade activities of ethnic communities here may bring a special experience to your trip in Vietnam. 
Some places in Sapa you should visit are Ham Rong Mountain, Fansipan peak, May Bridge, Silver waterfall, and the ethnic minority villages such as Cat Cat, Tan Van, and Ta Phin.
Ha Giang – Majestic Mountainous Area
The marvelous combination between the deep valleys and conical limestone peaks marks a unique feature of Ha Giang. The winding cliff slopes here stimulate adventurous travelers. That's why Ha Giang is an ideal destination for motorbike tours to Northern Loop Vietnam.
The main route to admire the amazing scenery of this limestone area is Ha Giang city – Quan Ba – Yen Minh – Dong Van – Meo Vac. Two famous spots on this route that you cannot miss are Ma Pi Leng pass and Lung Cu flagpole – a Vietnam's northernmost tip.
Though most of the roads in Ha Giang have been improved in recent years, the main terrain here includes the high cliffs and back-roads going through limestone. Hence, make sure that you have professional motorbike driving skills before conquering this place.
Mai Chau – Countryside Space
Just around 140 km from Hanoi capital city, Mai Chau is considered a popular destination for a short trip by motorbike. 
Getting rid of the chaos of life with bustling streets by renting a motorbike and driving through the chilling-out scenery of Mai Chau, you might feel your soul become more relaxing. That feeling not only comes from greenery surroundings but also from the featured scent of the ethnic area's glutinous rice. Besides, try spending a dreamy night at a stilt house in the rustic tribe villages to have a moment of relaxation and calm for your busy life, and it will create unforgettable memories. 
Moc Chau – Untouched Land
Described as an innocent girl of mountainous northwestern Vietnam, Moc Chau is famous for its pure beauty. The rustic scenery of ethnic cottages adorned with strips of blooming white plum flowers, splendid green tea hills and the clusters of cauliflower create a poetic landscape for this untouched land.
Normally, travelers come to Moc Chau on a motorbike after visiting Mai Chau since it's not far from each other. This area has a fresh cool climate throughout the year but the recommended period to visit is from October to February when the flowering season starts.
Ban Gioc Waterfall – Imposing Natural Sight
For those who fancy nature's grandeur, Ban Gioc Waterfall should be added to their list of North Vietnam places to visit. 
Nested in the primeval forests and rocks, Ban Gioc is the most beautiful and biggest fall in Vietnam. The view is perfect in the clear sky when 2 cascades of falls appear and the scenery of the green majestic mountains reflects on the large lake below.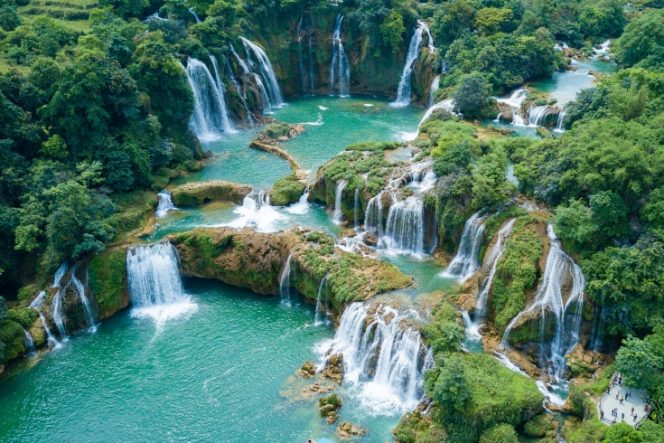 To reach Ban Gioc, the best way is to travel by motorbike from Cao Bang. You will have time to come across the beauty of the fresh pristine countryside and easily have the chance to do some sightseeing along the way. Don't forget to stop at Nguom Ngao Cave, which is just 5km before Ban Gioc. 
Mu Cang Chai – Stunning Rice Paddy Fields
Another destination that is a must for motorbike lovers is Mu Cang Chai – an overwhelmed picture of terraced fields that might not be found in other Vietnamese places. This is a hometown of the H'Mong ethnic minority that is known for its colorful ethnic clothes and rural lifestyle. 
Besides learning more about the ethnic culture, you have a chance to take wonderful photos in the morning when H'Mong people wear their special costumes and take care of the rice terraced fields. Imagine how beautiful it is!
Driving around the city, trekking to "Mam Xoi" hill on the grain season and visiting H'mong market are simple but interesting activities here.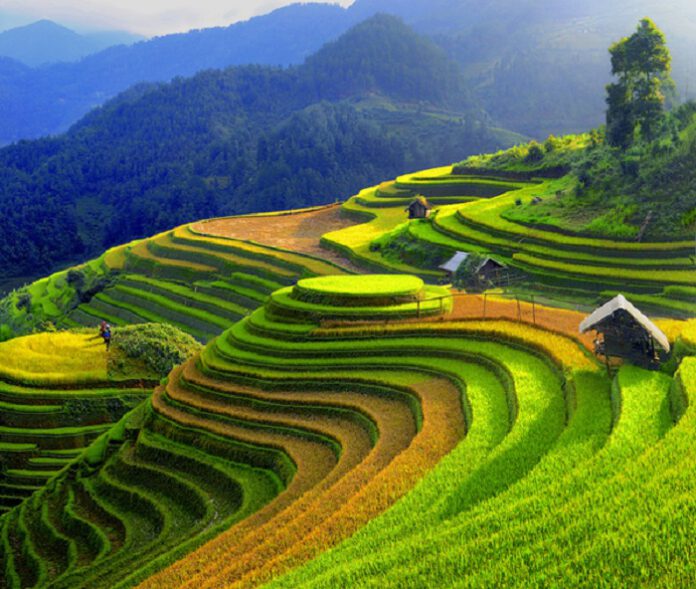 Tam Dao – Natural Harmony
This small village is well-known for its 4 seasons in a day. Morning is spring with a cool breeze, noon is quite warm and humid, the wandering clouds appear in the afternoon and the cold winter comes at night. So, remember to bring a light jacket to suit this climate-changed zone.
Compared to other places to visit in North Vietnam, Tam Dao is not superior. But if you don't rush to explore every corner of Vietnam, it's worth spending one night here. The green winding pass road to Tam Dao Station Hill and several chill-out homestays with the forest view will push out the chaos in your daily life.
Conclusion
North Vietnam is an ideal area for budget trips to escape from the bustling city and revel in the beauty of nature. Thanks to its majestic green landscapes with limestone areas, rustic villages and the gentle people of ethnic minorities, traveling by motorbike is a perfect way to explore all unique features of this area. Taking a Vietnam motorbike tour to the mountainous Northwestern is an amazing joy for adventurous souls.
Thanks for reading! If possible, try to visit all destinations in the list of North Vietnam places to visit above, surely that you will see how stunning Vietnam is!