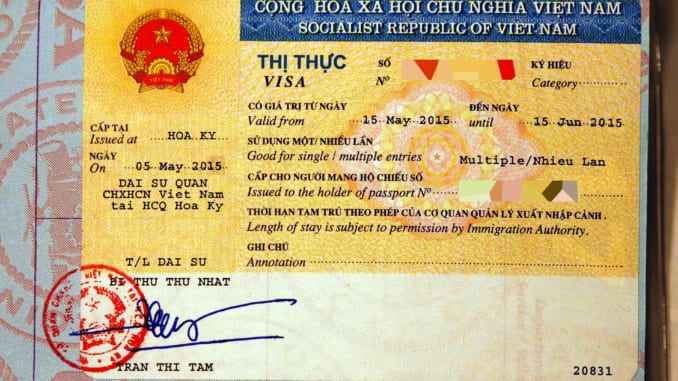 If you wish to be exempted Vietnam visa for your stay, you must be the citizen or national of countries having exemption agreement with Vietnam.
How to check if my nationality are required for Vietnam visa.
Vietnam Visa is a certificate which is issued by the Vietnam Government. It's allow you enter or exit Vietnam within the time you register with the Vietnam Immigration department. Any immigrant to Vietnam without Visa is illegal. Visa is usually stamped on your passports.
As normal, any foreigners want to come to Vietnam they have to get Vietnam Visa.
But there are some exceptions: Nationals of certain countries may visit Vietnam without the visa for a period of time, hereunder is the list of countries and regions that have Vietnam visa exemption arrangements with Vietnam.
Visit here to check your Vietnam visa requirements.
Vietnam visa exemption
List of countries exempted a Vietnam visa:
·     Visa-free for 30 days: Laos, Cambodia, Thailand, Malaysia, Indonesia, Singapore
·     Visa-free for 21 days: Philippines
·     Visa-free for 15 days: Japan, South Korea, Denmark, Russian, Sweden, Norway, Finland, UK, France, Germany, Italy, Spain (*)
·      Visa-free for 14 days: Brunei, Myanmar
Note: If citizens from (*) countries wish to re-enter Vietnam under visa exemption program again, the second visit cannot be ealier 30 days from the first visit.
If you are not from any of these countries or you want to visit Vietnam longer than authorized period of stay, please arrange a visa in one of 2 ways: apply in person/by post at a nearby Vietnam Embassy, or you can apply online through travel agents to be issued a visa on arrival at the airport.
Video guide How to apply Vietnam E-visa step by step:
Exception:
·     The visitors to Phu Quoc Island may stay without a visa for no more than 30 days.  This visa waiver program is also applicable to those traveling to the island through any international ports of entry (air and sea).
·     The holders of APEC Business Travel Card (ABTC) are granted visa-free access to Vietnam for no more than 60 days.
·     The citizens of Armenia, Algeria, Argentina, Bangladesh, Brazil, Bulgaria, Chile, Colombia, Dominican, Ecuador, Egypt, El Salvador, France, Hungary, India, Iraq, Japan, South Korea, Mexico, Myanmar, Moldova, Mongolia, Montenegro, Morocco, Mozambique, Pakistan, Panama, Paraguay, Peru, Russia, Serbia, Seychelles, Singapore, Slovak, Slovenia, South Africa, Sri Lanka, Tanzania, Tunisia, Turkey, Ukraine, UAE, Uruguay, Venezuela holding diplomatic or official passport may stay in Vietnam, visa free, for maximum of 90 days.
·     The citizens of Angola, Azerbaijan, China, Croatia, Kazakhstan, Myanmar holding diplomatic or official passport are granted visa-free entry for 30 days
·     The citizens of Afghanistan, Albania, Belarus, Cuba, North Korea, Nicaragua, Romania holding diplomatic or official passport are exempted a visa to Vietnam. The citizens of Uzbekistan holding diplomatic passport could stay in Vietnam for free visa for 60 days.
·     The citizens of Czech, Estonia, Germany, France, Israel, Italy, Poland, Spain, and Switzerland holding diplomatic passport are granted 90 day stay without a visa in Vietnam.
·     The citizens of Uzbekistan holding diplomatic passport are exempted from a Vietnam visa for 60 days.
·     The citizens of Iran are allowed to visit Vietnam without a visa for 1 month if holding the diplomatic passport.
Attention: whether you are required a visa or not, your passport should be valid for no less than 6 months prior to the trip or at least 1 month after visa expiry date and have at least 01 empty page left.
5 years visa exemption
For husbands/wives and children of Vietnamese citizens or overseas Vietnamese, you are probably granted the certificate of visa exemption valid for 5 years if submitting the documents listed below at the local embassy:
·     A completed copy of the application form for visa exemption
·     02 recent passport photos (taken in color, white background, the face looks straight at the camera, no head coverings or sunglasses)
·     Original passport valid for 6 months after the intended trip, plus one copy to file
·     The documents supporting the relationship between you and your wife/husband/parents such as marriage certificate, birth certificate, documents showing family recognition of your relationship (one copy is required)
·     Other valid documents as regulated by Vietnamese Law.
The time required for the issuance of exemption certificate is around 7 days after the receipt of application.
Please download the exemption application form and find more information on 5-year visa exemption program at mienthithucvk.mofa.gov.vn.
Source from Website: Visaonlinevietnam.com